Whether at work, studying for exam or at an evening event we often lack of energy.
"Russian Power" doesn't only quench thirst, rejuvenate body and soul, but also brings loads of energy and eases the mind's atmosphere.
High caffeine content (32 mg/100 ml)
Energy Drink 250 ml cans.
PACKING
The cans are delivered in trays which are covered with shrink film.
The tray's cardboard bottom is curved up laterally 50 mm.

The dimensions of each tray are as follows:
width 215 mm length 325 mm height 140 mm
DELIVERY UNITS
| | | |
| --- | --- | --- |
| 24 tray | 1 cans | ca. 6,76 kg |
| 1 pallet | 120 trays | 2880 cans ca. 830 kg. |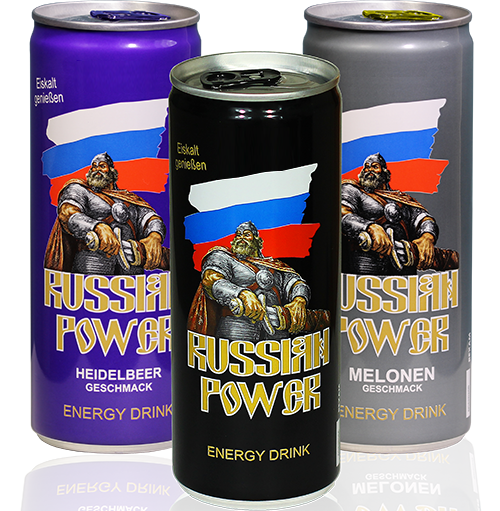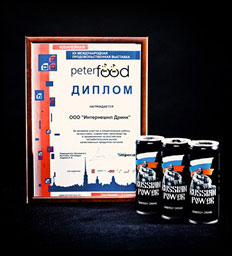 INGREDIENTS
Fizzy drink containing caffeine
High caffeine content (32 mg/100 ml)
Water, sugar, acidifier citric acid, carbon dioxide, taurine (0.38%),acidity regulator sodium citrate, glucuronolacton fructose syrup, natural and synthetic flavouring: caffein, colour
E 150c, flavourings, inosite, nicotine acid amide, pantothenate, Vitamin (0.02%), glucose-B6, Vitamin B12
Vitamin Information:
4 added vitamins Caffeine obtained from a natural source
TRANSPORT
A haulage firm will be in charge of delivering the goods within all of Europe. It is possible to self-pickup the goods from our warehouse in Kempten (Allgäu). In the case of average or large purchase quantities the goods will be delivered by road trains or in containers.

One road train holds 32 pallets at the maximum
20 foot container holds approximately 75.360 cans
40 foot container holds approximately 83.000 cans
Shipping overseas is undertaken by the port of Hamburg.

Please be aware that stacking of laden euro pallets is not possible!!!
Nutrition information per 100 ml
Energy/Nutrients

Calorific value
protein less
Carbohydrate
of which sugar
Fat less
of which saturated
fatty acids less
Fibre less
Salt
Soldium less
Nicotinic acid amide
Pantothenic acid
Vitamin B6
Vitamin B12
Content

205 kJ (48 kcal)
than 0,5 g
11 g
11 g
than 0,5 g
than 0,1 g

than 0,5 g
0,23 g
than 0,09 g
7,9 mg
1,9 mg
2,00 mg
2 μg
Percentage of
daily allowance










49,5 %
33,0 %
142,9 %
80,0 %